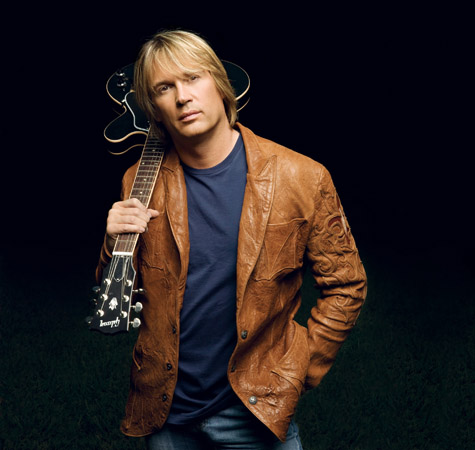 Billboard voted him "Most Likely to Succeed." Good Morning America named him a "Breakout Artist." Hear what all the buzz is about when 99.9 WFRE Free Country presents Rockie Lynne at Frederick's Baker Park Bandshell. This free, live performance—part of the Summer Concert Series, presented by Celebrate Frederick, Inc.—begins at 7 p.m. on Sunday, August 17th.
Raised in Statesville, North Carolina, Rockie Lynne rebelled against his strict Southern Baptist upbringing—by hiding in his closet and listening to Jimi Hendrix and KISS records. After a tour of duty in the Army, Lynne pursued his passion for music, first performing back-up for touring acts in South Carolina and then playing solo gigs in the Midwest. With a sizeable fan-base, thanks to constant touring and self-produced CDs, the singer-songwriter was approached by Universal Records. The deal produced Lynne's self-titled mainstream debut, featuring his first single, "Lipstick," which gained traction on Billboard's Hot Country Songs chart and peaked at #29. In 2007, Lynne left Universal for Robbins Nashville. His sophomore effort is set to drop this year.
Arrive by 6 p.m. to hear a carillon bell recital performed by Claire Marie Moblard, the music director and organist at Zion United Church of Christ in Hagerstown and the apprentice of Frederick's City Carillonneur, John Widmann. Snacks will also be available for purchase from 6-8:30 p.m.
In the event of inclement weather, please check www.CelebrateFrederick.com for information on cancellations. Due to the travel time and set-up by various artists and the sound production company, decisions regarding weather are made by approx. 4 p.m.
While the performances are FREE to the public, the Concert Committee encourages you to bring a canned food item in lieu of admission. Non-perishable items such as canned meats and vegetables, soups, peanut butter, cereal, rice and pastas are requested. All items collected benefit the Frederick Food Bank. Items will be collected at the information booth, located at the Baker Park Bandshell steps.
This year's Series would not be possible without the generous support of the following corporate sponsors. The Spires Sponsors are AT&T, Bechtel Group Foundation, Linton at Ballenger by Drees Homes, Sandy Spring Bank, Spectrum Federal Credit Union and Weis Markets. The Carillon Sponsors are Citi, Comcast, COMSTAR Federal Credit Union, The Frederick News-Post and Roy Rogers – A Plamondon Company. The Bandshell Sponsors are BB&T and Jean Peterson Design/The JaBITCo Group.
For more information, please call The City of Frederick Office of Special Events at 301-600-CITY (2489) or visit www.CelebrateFrederick.com.